Wooden doors have enchanted homeowners for centuries with their exquisite charm and unrivalled beauty. But did you know that these charismatic entrances not only capture our eyes but also offer many practical advantages? How do they manage to strike the perfect balance between aesthetics and functionality? Let us embark on a journey to discover the secrets behind wooden doors and why they remain an enduring choice for homeowners. So, fasten your seatbelts and get ready to unravel the enigmatic allure of wooden doors, where timeless elegance meets exceptional performance.

The Finest Wood for House Doors
Some woods like oak, mahogany, and teak are excellent choices for house doors due to their outstanding qualities. These hardwoods are highly durable and can withstand wear and tear. They own natural oils and density, making them resistant to warping, rot, and pests. As a result, doors made from these woods are long-lasting and can withstand various environmental factors. Furthermore, their rich textures and grain patterns add a touch of natural beauty to any home.

The Advantages of Wooden Doors
Wooden doors offer several advantages that contribute to their widespread popularity. First, wood is an excellent insulator, providing better thermal efficiency than many other door materials. This means that wooden doors can help regulate indoor temperatures, reducing energy consumption and lowering utility bills.
Moreover, wooden doors offer exceptional versatility in design. Wooden doors can be customized for different architectural styles, from traditional to contemporary. They blend with the aesthetics of any home. You can get intricate carvings, panel configurations, or decorative glass inserts according to your design preferences.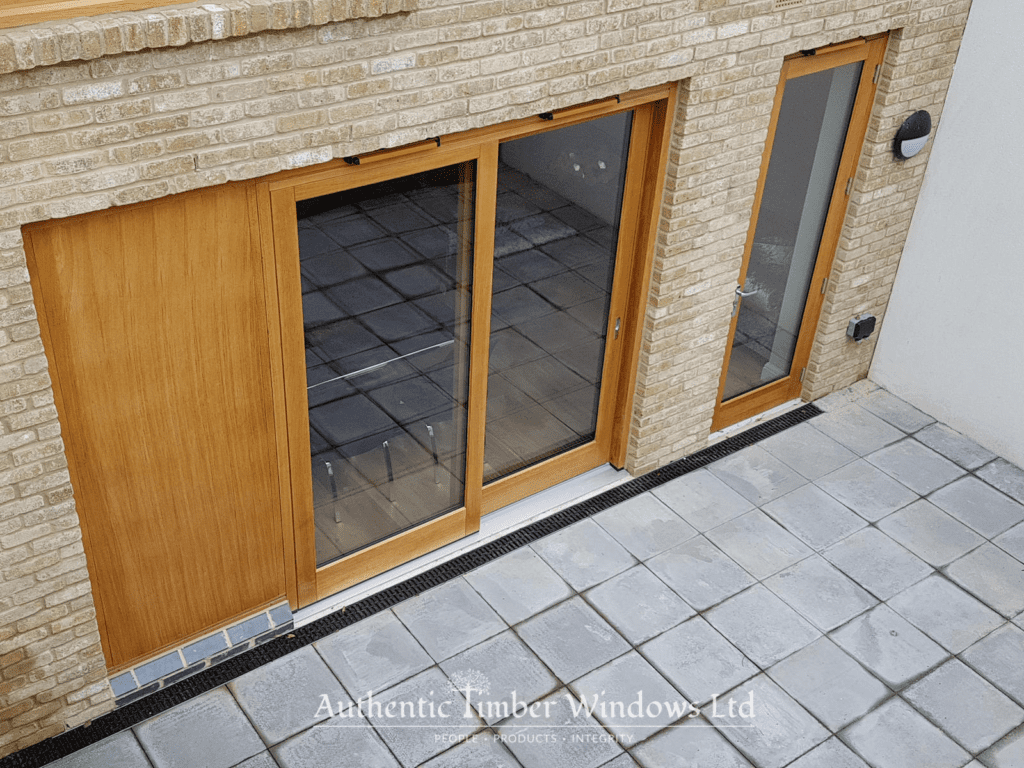 Sliding Doors: Seamlessly Merging Indoor and Outdoor Spaces
In addition to their smooth transition and contemporary design, sliding doors offer practical benefits that enhance the overall living experience. They are engineered with advanced insulation technology, providing excellent thermal efficiency, and reducing energy consumption. This not only helps maintain a comfortable indoor temperature year-round but also contributes to cost savings on heating and cooling expenses. Moreover, sliding doors are often equipped with high-quality security features, ensuring homeowners' safety and peace of mind. Whether it is enjoying picturesque views, hosting outdoor gatherings, or simply appreciating the beauty of nature, sliding doors effortlessly blend the comfort of indoor living with the openness of the outdoors.
Security Doors: Ensuring Peace of Mind
Security doors have multiple locking points, tamper-resistant hinges, and durable materials like steel or reinforced fiberglass. They are designed to withstand forced entry attempts, deterring intruders. Homeowners can customize these doors to match their home's aesthetics while prioritizing style and safety. With their strong construction and advanced security features, these doors give homeowners peace of mind, protecting their loved ones and valuables from potential threats.

The Elegance of French Security Doors
French security doors offer homeowners both style and safety. They provide peace of mind without sacrificing aesthetics. These doors have reinforced glass that adds an extra layer of security while preserving the beauty of the multiple glass panels found in French doors. They also feature multi-point locking systems for enhanced protection, making it difficult for intruders to break in. With sturdy frames and excellent craftsmanship, French security doors enhance the appearance of a home and create a strong barrier against potential threats.
The Beauty of Wooden Front Doors
Wooden front doors have an inherent charm that never goes out of style. They create a welcoming entrance, leaving a lasting impression on guests. Wooden front doors come in various designs and finishes. A variety of architectural styles can be matched to them. You can add decorative hardware like stylish handles and hinges to make them more attractive.

The Advantages of Double-Glazed Front Doors
Double-glazed front doors have better insulation and reduce noise. They are more secure because they have toughened or laminated glass. The insulation layer between the glass panes makes it harder for intruders to break in. Homeowners feel safer and have peace of mind with these doors. These doors maintain a cozy indoor atmosphere and save energy, leading to potential long-term cost savings.
Authentic Timber Windows Ltd is a trusted company in London, UK, offering high-quality wooden doors and windows in England and Wales. We prioritize customer satisfaction and provide a wide range of products like sliding doors, lift and slide doors, and wooden front doors. Our skilled craftsmen can customize colour, dimensions, and wood type to match each home's unique style. We also cater to customers who want custom-made windows and doors, offering personalized quotes based on their provided pictures and descriptions. With our dedication to exceptional craftsmanship and attention to detail, Authentic Timber Windows Ltd ensures that every customer receives the perfect wooden doors and windows to enhance their homes' security, elegance, and appeal.
Conclusion:
Wooden doors have endured through time, captivating homeowners with their innate beauty, adaptability, and resilience. Whether sliding doors that seamlessly merge indoor and outdoor areas or high-security front doors that bring a sense of tranquillity, wooden doors embody the ideal blend of practicality and sophistication. Whether you opt for the timeless charm of wooden front doors or the contemporary appeal of sliding patio doors, investing in wooden doors is a testament to your pursuit of security, style, and lasting quality.

Ensuring your safety and security is our utmost concern, and we strictly adhere to regulations when installing your timber windows and doors. Our skilled window fitters incorporate cutting-edge technologies to guarantee a perfect fit for your windows and doors.
Contact us now to book a free consultation and trust us with your window-fitting needs. We offer affordable expert services that will help improve your home, and we are excited to assist you. Contact us to start the process and begin your journey.